PROGRAMS & SOCIALS COMMITTEE… Upcoming Events

Washington County REALTORS® Annual Social at BigShots Golf
You're invited to enjoy golf, great food and fun with collegues!
Everyday is a party at BigShots Golf – the most fun you can have at driving range, whether you're a golf enthusiast or not.
Thursday, September 14th from 5:00 to 10:00 pm
 BigShots St. George
1108 W. Black Mountain Drive – St. George, UT
WCBR Members, with RSVP, will be given 2 tickets (you + 1 guest).
Additional tickets may be purchased at $40 each.
SEE BELOW FOR COMPLETE DETAILS…
SCHEDULE OF EVENTS
The entire top floor of of BigShots is reserved, which includes their banquet room and 26 bays. Guests will have two options when reserving tickets: enjoy golf first, then dinner or vice versa.

Golf bays will be assigned at random. However, guests can request to be paired with other attendees. We will do our best to accommodate all requests.
OPTION #1 GOLF FIRST:
Golf open from 5:00-6:30 followed by dinner from 6:30-8:00pm.
OPTION #2 DINNER FIRST:
Dinner from 5:00-6:30pm followed by golf from 6:30-8:00pm.
The facilities will remain open from 8:00-10:00pm for anyone wanting to stay.
FOOD & BEVERAGE
The following menu will be provided:
Fiesta Taco Bar – Beef & Chicken Taco Options
Sides Include: Cilantro Lime Rice, Black Beans, Tortillas, Veggies, Sour Cream, Pico de Gallo, Cheese, Lettuce & Fresh Limes
Unlimited Fountain Drinks Available.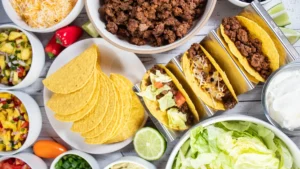 Cocktails, beer & wine, or additional food items available for purchase.
GET YOUR TICKETS HERE!
RSVP IS REQUIRED FOR THIS EVENT
Every member (Affiliate, Realtor® or Appraiser) is eligible to receive 2 tickets to this event, free of charge. Additional tickets may be purchased at $40 each.
To register, please click the link below and provide the following information:
Member Name
Guest Name
Additional Ticket Request (if applicable)
Schedule Preference (golf or dinner first)
Special Requests (names of who you'd like with you in your bay)
CLICK BELOW TO RESERVE YOUR TICKETS!
Please note that time options are on a first-come, first-serve basis. Once one time slot is full, registrants will only have the remaining option.
Guests must RSVP no later than September 11th.
We look forward to seeing you at this event!